This year's 10m Air Pistol and Rifle Championships were held at Napier University Sighthill Campus in Edinburgh on the 10th and 11th March with just under 100 competitors competing over two days. Our competitors came from Scotland, England, Wales, Isle of Man, Ireland, Norway, Bulgaria and Poland. They included a number of athletes who will be heading down under to the Commonwealth Games on the Gold Coast at the start of April. Our competitors had a wide age range from 12 to 70+ and with a Tetrathlon competition running alongside, there was also the welcome addition of Pony Club members.
Saturday kicked off with classified competitions open to all, but the day's main events were the Junior Championships in both Rifle and Pistol. Both Rifle and Pistol qualifying rounds for the junior ladies saw new Scottish records being set!
Some great shooting from Victoria Walls in the Junior Women's Air Rifle ensured she broke her own 60 shot Scottish record in the qualifying round with a score of 616.7 (previous record 613.9) and go on to win the final, with Isabel Stark taking silver and Neasa O'Connell bronze.
Women's Junior 10m Air Rifle Championships
Junior Men's Air Rifle saw Brogan Smith lead in the qualifying round and after a hesitant start, continue to dominate in the final. Scott Norval claimed silver after qualifying in 5th place and Tom Diggle took bronze.
Men's Junior 10m Air Rifle Championships
Junior Women's Pistol had a good number of entries. Lucy Thomas, of Wales, won the qualifying round with some impressive shooting, with Kerstin Dodd just behind, setting a new Scottish record for the 60 shot Junior Women's qualifier with a score of 549 (previous was 542). Kerstin went on to win gold with Katie Knowles coming up to take silver and Lucy Thomas bronze.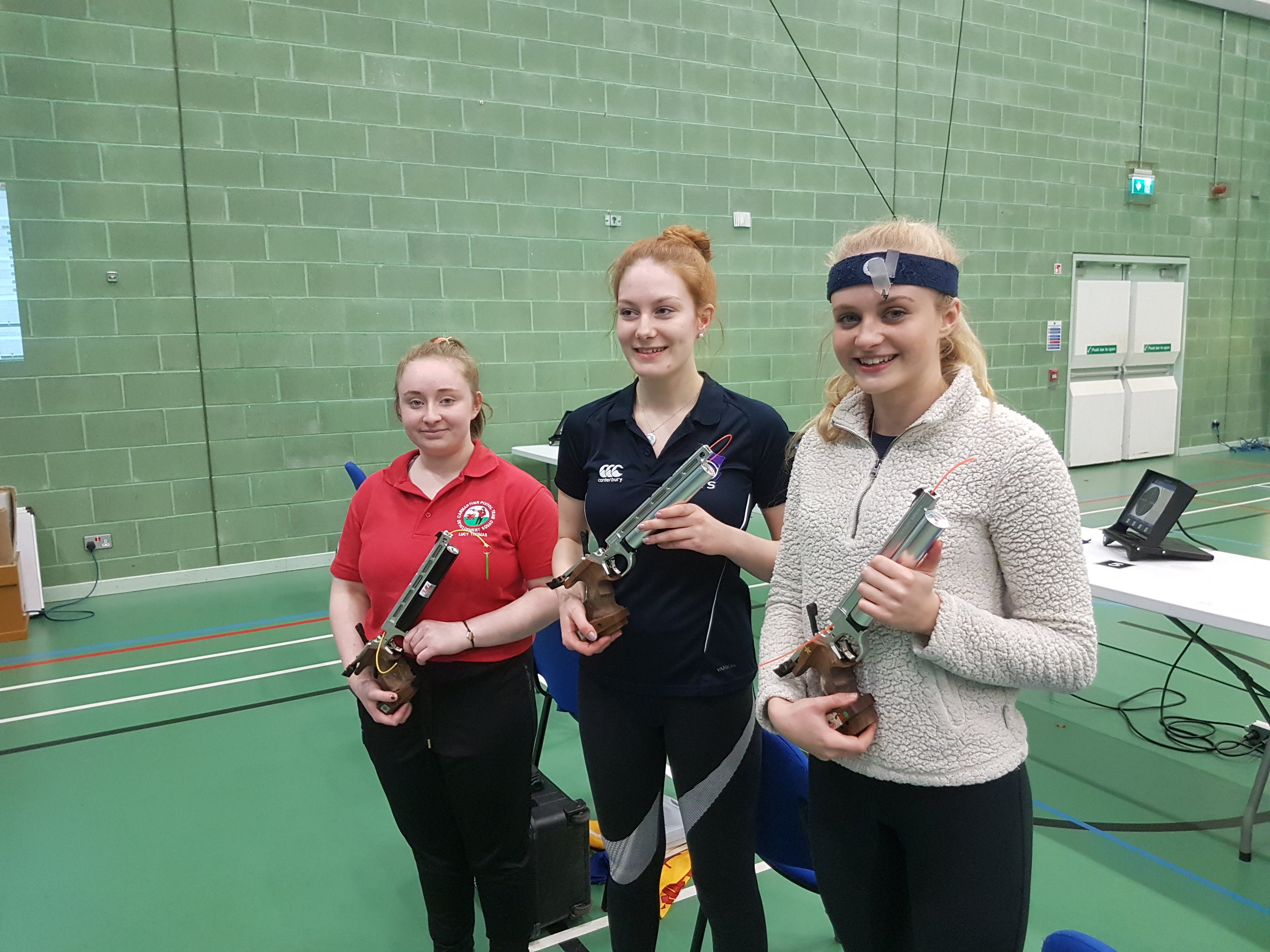 Women's Junior 10m Air Pistol Championships
Junior Men's Pistol had a lighter entry and whilst there were no new records set, the medals were taken by some new blood proving their metal. Andrew Walker had a solid lead throughout the final, sealing gold with a 10.9 final shot. Newcomers Lewis Mercer and Hamish McDonald took silver and bronze respectively.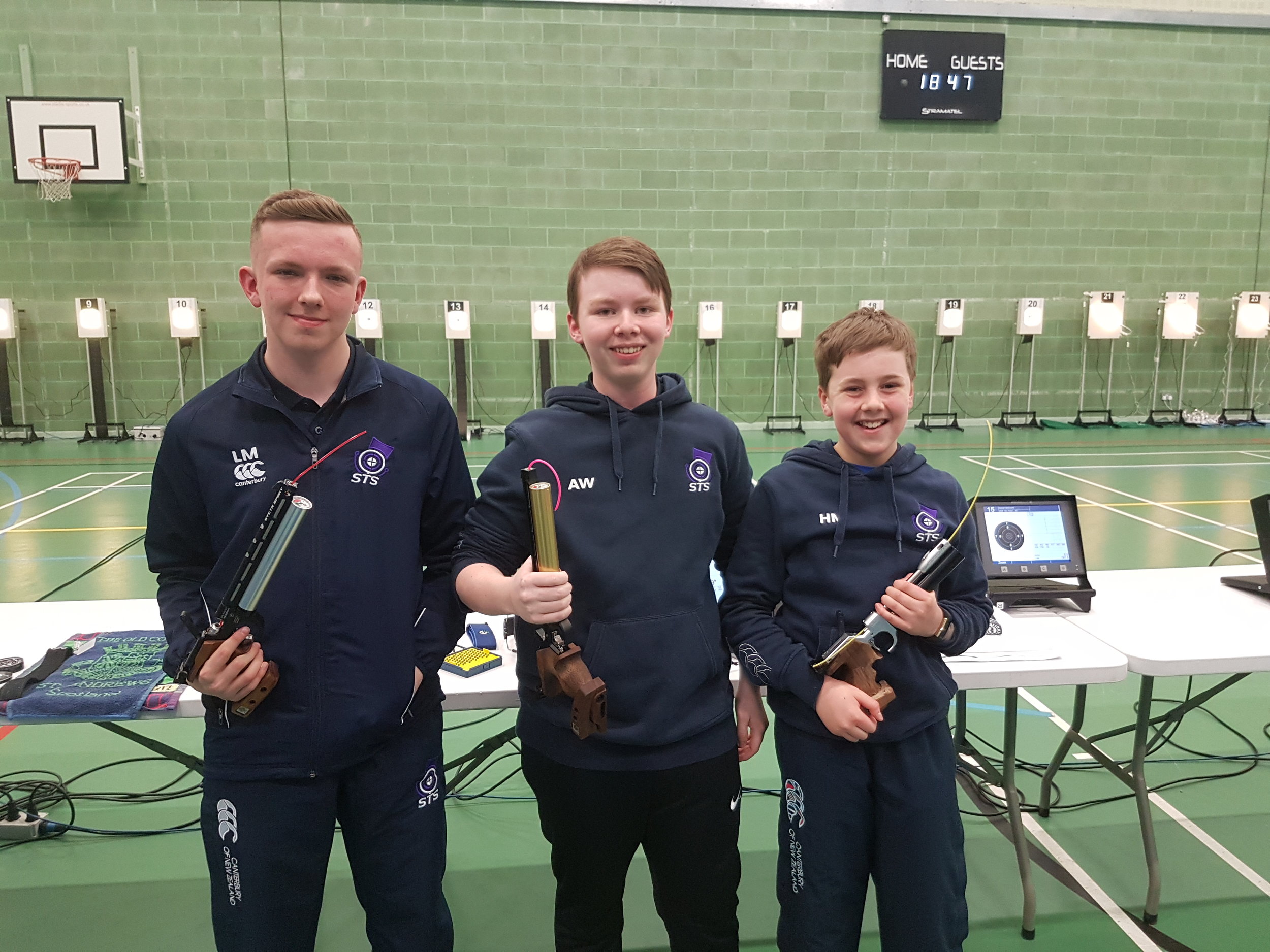 Men's Junior 10m Air Pistol Championships
Sunday was Open Championship day for both disciplines and many of the juniors were out to prove they were forces to be reckoned with in the Open class as well.
The Women's Air Rifle qualifier was won by England's Hannah Pugsley with the McIntosh sisters, Jen and Seonaid taking second and third respectively and Victoria Walls following in 4th place.
An exciting final saw junior Victoria Walls take the initial lead, but after 14 shots Hannah Pugsley caught her and for the next 2 shots they were neck and neck on 143.1. Hannah pulled out all the stops and shot an impressive 21.3 to take the lead which she maintained until the final series of two. Seonaid, meantime had been putting in some solid scores, gaining enough ground to push Victoria down into bronze medal position and challenge Hannah for gold with the last 2 shots. Seonaid shot 21.1 to snatch victory, winning both the Open and Confined titles.
Women's 10m Air Rifle Championships
In the Men's Air Rifle, James Paterson stamped his authority, winning the qualifier and never losing the lead in the final to win gold. Those qualifying in second, third and fourth place were pipped in the final, Stephen Abbot taking silver having qualified in 5th just pulling ahead of Andrew Gutenmacher after 20 shots, to leave him with bronze.
Men's 10m Air Rifle Championships
Women's Air Pistol had the biggest field and greatest diversity of nationalities. The top three places in the qualifier were taken by competitors from Norway, Scotland and Wales, with Welsh junior Lucy Thomas qualifying in 3rd place and Scotland's junior Kerstin Dodd in 5th. The final was dominated by the Norwegians with Aina Sandstol looking good for a gold medal but the last 4 shots turned the tables and teammate Ingeborg Gran moved up to claim the Championship leaving Aina with silver. Scottish junior Kerstin Dodd remained in 3rd place throughout the final to take home bronze.
Women's 10m Air Pistol Championships
Following the Irish defeat of the Scottish Rugby Union team in the 6 Nations the day before, there were, unfortunately, no Irish pistol shooters competing on whom the Scots could seek revenge in the Men's Air Pistol competition. The other three home nations, however, were all represented in the top 8 qualifying for the finals. Going into the final there was a good cross-section of Home Nation representation with 5 Scots, 2 English and 1 Welsh man qualifying. The battle for the top two positions turned out to be between Aedan Evans from Scotland and Craig Auden from Wales who led the way for the first 16 shots. However, Aedan then took control and claimed the top spot for gold. Below, there was a Scotland-England battle for bronze fought between David Owen from Scotland, and Waldek Mickiewicz and Win Man, both from England. In the end, David finished 5th behind Win Man in 4th and Waldek took the bronze.
The event was a great success with full relays and exciting finals, at a venue that couldn't do enough to help and allowed our international friends to easily get to and then experience the sights and sounds of Edinburgh after the competition.
Many thanks must go to all competitors for making the competition a pleasure to be involved with and we wish you all (but especially the Scots!) success in your next competitions, be that the Commonwealth Games, World Cups or just your own club competitions.
Thanks too to the ever helpful venue staff, STS office and very many volunteers, especially Gavin Walker for being in the hot seat, driving the electronics as well as directing his team of range officers.
We are already looking forward to seeing you all in 2019!
Report by Tim Liddon, STS Pistol AMG Chair